5 Easy Tips for Speaking in Front of your Homeowners Association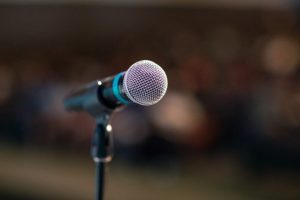 Board members and homeowners alike often face situations where public speaking becomes necessary. Whether you are speaking in a board meeting or in front of the homeowner's association, the experience can seem a bit intimidating. Here are a few tips to help you get ready to speak in front of your HOA.
Create a Script
Knowing what to say without needing to rely on notes is one of the best ways to improve your credibility and ease your own anxiety about public speaking. Keep notes to a minimum, and practice what you are going to say ahead of time. Practice until you are confident that you will be able to speak without constantly referring to your notes or an outline.
Formulate an Organized Speech
Organized speeches are easier for listeners to follow and easier for speakers to remember. The most organized your speech is, the less you will have to worry about getting ahead of yourself or backtracking to cover important details.
Eliminate Fallacies
Fallacies are flaws in logic that can destroy the credibility of your argument. Have someone else read over your speech and ask them to help you find and eliminate any fallacies that could have an impact on your presentation.
Work on Your Nerves
Speaking in public is nerve-wracking for many people, and extreme nervousness can have a serious impact on the effectiveness on your speech. If you are uncomfortable speaking in front of others, try breaking exercises or meditation to calm your nerves. Go over your speech until you are fully comfortable with it. Visit the venue in advance so you know what to expect. Do anything in your power to calm your nerves before the event.
Practice, Practice, Practice
Practice as much as possible prior to delivering your speech. Practice helps you memorize your script and solidify your knowledge of the subject. It also helps ease your nerves and eventually makes speaking feel more natural.
Speaking in front of groups of people is difficult for many homeowners and board members. However, the tips above can make the task less intimidating. Remember to maintain and attitude of success, and your next speech could be a lot easier than you anticipate.
Tweet