Events to Plan for Your HOA Board This Summer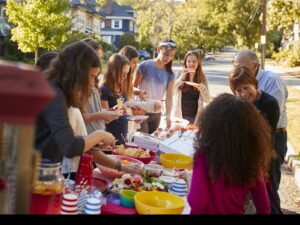 If you're on an HOA board or the events planning committee, you know how important it is to gather your community together. After all, people are better neighbors to each other when they actually know each other, and having fun together is one great way to help people meet others in the area. Here are a few fun activities you can plan this summer!
Pool Parties
If you have a community pool or there's one nearby you can rent, invite the neighborhood for a swim day! Plan some activities for the kids, like a squirt gun or water balloon fight, and let adults sunbathe and swim as they prefer.
Movie Night
Choose a family-friendly movie and set it up in a local park. This works best if you have an open area in your neighborhood, but you can always arrange to take over another location if you need to. If all you have is a parking lot, make it a drive-in instead!
BBQ
If you don't have communal BBQ grills or pits, arrange to have some neighbors transport theirs outside. Have everyone bring their own meat, then cook together and enjoy getting to know the neighbors. Ask everyone to bring a potluck side to make it even more fun.
July 4th Party
Depending on the demographics of your community and your space, there are a number of July 4th events you could have. Throw a bike parade for kids, have a carnival and a craft fair or come up with something new. Celebrate the country together and bond as you do it!
Garage Sale Day
Organize a garage sale day either before summer gets too hot or at the end, right before fall arrives. Advertise that your entire neighborhood will be selling. You can even come up with maps that highlight the addresses of people committed to selling, so buyers can find the sales with ease.
Scavenger Hunt
Plan a neighborhood scavenger hunt and help people get to know the area even better. You can keep it inside your neighborhood or include the local community. Many business owners will
be happy to sponsor part of the hunt in exchange for publicity, and they might even put forth prizes for your winners.
Family Outdoor Game Day
Organize a variety of outdoor games, at least some of which are kid-friendly, and let people decide how they want to play. You might offer flag football or baseball alongside pickleball, Twister, a nerf gun war, and more. People will enjoy getting to know each other while they have a blast.
A Bonfire
If you have an area where it's safe, plan a bonfire one evening. Invite people to bring their chairs and gather together. You can make s'mores, sing campy campfire songs, or just let people talk. Provide hot beverages if you think it might get chilly.
For more ideas like these, contact us at AMI. We would love to help you invite your community members to know each other even better.
Tweet