HVAC Tips For Homeowners and HOAs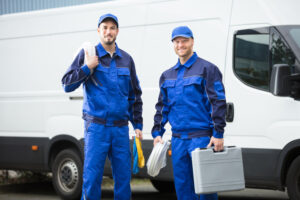 Summer is coming (if it's not here already!) and even people who wait to use their air conditioners are turning them on again! Whether you're communicating with homeowners or doing the best you can for the association, there are a few things you can do to keep your HVAC running well this summer.
If you're on the association board, it might be nice for you to communicate these to your homeowners. Sure, they don't have to do anything, but helping them remember what good HVAC care looks like can keep them cool this summer.
Get Maintenance Done
Call a local HVAC company and get maintenance on all units. Maintenance usually includes checking each part of the air conditioner to make sure it's all working well. It can also involve a comprehensive cleaning of the unit, a visual inspection, and more. Overall maintenance helps a unit run efficiently, so it doesn't cost as much to stay cool, and it can help you find problems before they become major, catastrophic issues.
Keep Extra Filters Available
Find out what filters your air conditioner uses and buy several to keep on hand. This makes it easier to change them based on the schedule your AC company gives you (and, if you don't have one of these, make sure you ask at your maintenance visit!). It also means you can try changing the filter if you have any AC problems because sometimes this resolves everything.
Find an HVAC Company You Like
Speaking of AC companies, make sure you know of one in the area that you trust. Develop a relationship with them by calling them every summer for maintenance and using them whenever you need an AC repair. This eliminates one thing to think about if you ever find out that your AC isn't working.
Keep the Cold Air In
Take care of your home so that the cold air your AC pumps into your house doesn't escape. You may need to replace weatherstripping around doors, caulking windows and other cracks, and generally ensures that your home isn't any hotter than it needs to be. If you aren't sure how to do this or you want to make sure it looks professional, call some HVAC pros or a handyman service to get the job done right.
Assess Whether Duct Cleaning is Right For You
You may need duct cleaning to help your HVAC system run efficiently and/or to help eliminate allergens from the air. This can be particularly important for public buildings, but it can also make a big difference in individual homes. Duct cleaning is usually fast and relatively inexpensive and it can both lower your energy costs and help people feel better.
Call us at AMI today if you need any help managing your HOA's air conditioners or if you want help communicating with your homeowners. We can put together a management plan that works for you and your association, including only the services you need. Find out more today!
Tweet