Renovate or Rejuvenate?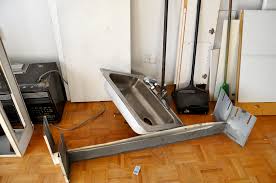 Sometimes you need to put some work into your property to generate the most rental income. With new properties entering the market each day, potential renters have room to be picky. When comparing your property to another that's less expensive, they can quickly tell whether yours is really worth the extra investment.
To make your unit stand out and attract renters who are willing to pay what you're asking, you may need to invest in some upgrades. Regardless of your budget, there are things you can do to make your property more appealing.
Renovation
Renovating is the most costly option, but it will also bring the highest rent rate. You'll likely spend a few thousand dollars to replace fixtures, flooring, appliances, lighting, etc., but doing so provides a huge return on your investment.
Renters pay close attention to bathrooms and kitchens. If a potential renter is considering your apartment and another of similar size, they're more likely to choose yours – even if it costs a bit more – if you've recently upgraded the bathroom, kitchen or both.
Rejuvenation
If you don't have the time or money to invest in a complete renovation, rejuvenation is another option that can have a big impact. Rejuvenating your unit is comparable to giving it a "facelift." Simply replacing countertops and fixtures and adding a fresh coat of paint improves the aesthetic appeal of any apartment.
You can rejuvenate an apartment for just a few hundred dollars, and by making small changes throughout the unit, you can make it more appealing to even the most selective potential tenants.
Boosting Your Apartment's Value
Renovation and rejuvenation processes are both excellent ways to boost the value of your apartment. Whether you have an older unit that's in desperate need of some upgrades or a newer apartment that could use some TLC to make it stand out from other properties in your area, investing in improvements is an excellent way to attract tenants and generate the most income.
If you need help managing your rental properties, deciding on renovations or rejuvenation or finding the right contractors to get the job done right, we can help! At AMI, we're property management experts, and we'd be happy to help you manage your rental properties. To learn more, contact us today.
Tweet