What Does The HOA Board Do?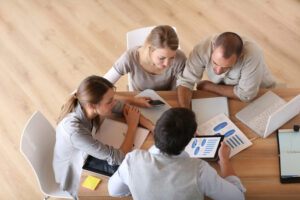 A lot of people live in areas with homeowners associations for years, but they still don't know what the association does. They may not even attend any association events. Other times, associations are so "behind the scenes" that many of the homeowners don't actually know what they do.
Everyone in an HOA should know what the board is responsible for. This raises accountability and it helps make sure that everything gets done that needs to get done. Here are the main tasks of the HOA board.
Manage the Money
An HOA board's main job is to manage the money that comes in through association dues. They decide how to allocate funds, make sure the association gets a good deal on any and all services that they need, pay necessary expenses, and participate in extensive record keeping.
All HOA boards should have a treasurer, though it's not just that person's job to manage the money. Instead, every board member is responsible for doing their part to ensure that association financials are clear and above board.
HOA boards are also responsible for any taxes the association might incur. They need to track these and make sure they get paid on time.
Keep Common Areas Looking Awesome
HOA boards are also responsible for keeping up with common areas. These might be minimal, like a walking path or a small park, or they might be extensive, including swimming pools, clubhouses, and even shared roofs, walls, etc.
The board needs to not only make sure that these areas look good but that they are in usable condition for their stated purpose. A swimming pool contaminated with bacteria, for instance, may look great but no one can use it!
When the board keeps up common areas, they need to ensure that the community is getting a good deal for those services. They need to select the best contractor for the job and make sure they know what they are doing.
Choose the Right People for Every Job
Finding the right contractors is a huge part of what an HOA board does. This usually involves getting at least three quotes for each and every service that the community needs, reviewing them, asking relevant questions, and making a choice that's good for the association as a whole.
Choosing the right people can mean choosing the best HOA manager. Some associations like to do everything on their own, but this can get complicated, especially if people aren't willing to invest the required time and energy into their tasks. In cases like this, it's often best to find a manager or a management company so it is someone's job to make sure the association runs well.
You can't choose just any community management company, though. Make sure you choose one that specializes in the type of association you have and has the contacts your association needs.
If you're looking into HOA management companies, we would love to talk to you. Call us at AMI today to find out more!
Tweet