What Does an HOA Contractor Do?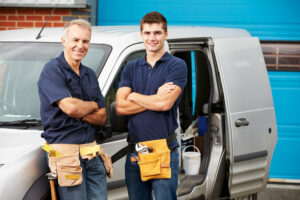 Most homeowners' associations work closely with a number of contractors. These people provide various services, such as trash pickup, physical maintenance, landscaping, and more. Each association will work with different contractors, because every association has a wide variety of needs. However, all HOA contractors have a few things in common.
Become HOA Specialists
Many of the contractors who serve HOAs are actually HOA specialists. This may mean that they get all or most of their business from HOAs. At the very least, it means that they have learned how to work with HOAs, including special needs that HOAs have, standard operating procedures when it comes to HOAs, and more.
Being a specialist means that it is easier for the HOA and the contractor to work together, because they know what to expect from each other and they each know what the other needs.
Provide a Quote
Most contractors provide quotes to HOAs before they sign a contract. In fact, most HOAs get three or more quotes before they hire anyone (and they may be required to do this in their bylaws).
Skilled contractors can produce an accurate quote quickly. For services like trash, they may only need to know the location of the association and the number of homes in order to do so. Other contractors may need to see the job before they can quote, but they will still get through the process efficiently.
Work with HOA Representatives
Once a contractor is hired, it's their job to know who they are working directly with at the HOA. They will stay in touch with this person, respond to their calls and requests, schedule work as needed, and more.
It's important that HOA contractors know who to contact and that they take responsibility for communicating well. After all, they could lose the contract if they are accused of poor communication, unresponsiveness, or badgering the wrong person.
Provide a Quality Service
Contractors who work for HOAs might think that they can get away with cutting corners, but the best ones don't even try. They know that these communities are relying on the work they do, so they will strive to do a good job, even when it seems like no one in the community is paying attention.
Every HOA has that one person who notices everything. If a contractor isn't doing their job or isn't doing it well, someone is going to see it and call them out. At that point they will need to fix the work to bring it up to a higher standard, or they will risk losing that contract.
Call us at Advanced Management Inc today if you're looking for quality contractors for your HOA. We have contacts in a variety of industries and we can help you find the help you need. Get things in your HOA running smoothly again when you trust our team's community management services to make it happen. Reach out now to find out how we can make running your HOA easier for everyone involved.
Tweet