Community Management in Longboat Key, FL
We know that there are a lot of rental properties and HOA communities in Longboat Key, FL. If you own a rental property and you're sick of doing all of the work on it yourself or you're part of an HOA board that is struggling to get everything done, talk to us at Advance Management, Inc. today about our options for community management in Longboat Key. We would love to help you out!
Longboat Key Community Association Management
Managing a community is hard work! If you're struggling to communicate effectively with members or handle some of the administrative tasks that go along with managing a community well, give us a call! These are exactly the types of tasks that we can take on so you don't have to worry about this. This can free you up to love your community and participate in it again.
Condominium Management Longboat Key
Managing a set of condos has its own particular set of tasks, and knowing how to do these well can go far towards helping people love where they live. If you feel like the financial or administrative side of things is getting the best of you, talk to us today about outsourcing it. We have experts available who handle these tasks for several different communities. If you want someone who has the necessary expertise and will spend a good part of every day working for you, let us know.
Longboat Key Property Management
Managing rental properties can be hard, especially if you aren't local to Longboat Key, FL, or you have many units to handle. Sometimes, it's in your and your tenants' best interests to outsource this management so that everything gets done well and in a timely manner. If the administrative side of property management in Longboat Key is getting to you, we can take that on, too. Talk to us today and we will help you figure out what you need so you can enjoy having a rental property again.
HOA Management Longboat Key
Being on the HOA board is a privilege, but it's a lot of responsibility! If you feel like your board is floundering because its volunteer members don't have time to do everything, that's when you should call AMI. We can help you with accounting, preparing financial statements, getting work done, contacting your members, handling complaints, and more. No matter what you need for your HOA board, we can help take some of the stress of that position off of you so you can handle the more important aspects of the job, like setting policy and building a community.
Whether you need property management services, HOA management in Longboat Key, condo management services, or community association management services, we are here for you. We will help you figure out which services would be best, given your needs and your budget. Then, we will help you in the day-to-day running of your community or managing of your property.
Let us show you why so many community managers, rental property owners, and HOA boards have chosen to work with us at AMI!
Choosing AMI for Longboat Key Condominium Management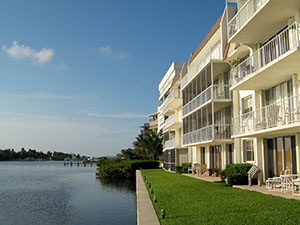 Choosing AMI for Longboat Key condominium management means choosing a company that is affordable and offers convenient, comprehensive services. We provide our clients with access to a vast array of services, and we strive to offer the best possible prices.
We use the best community association management software and accounting systems to smoothly operate your condominium. With our systems, it is easy to track violations, delinquencies, work orders, etc. This information can easily be shared with Board members.
We use advanced systems for accounting and other community management services in Longboat Key. Our systems allow us to provide clear communication and keep track of things like work orders, delinquencies, violations and much more, and Board members are able to easily track this information as well.
Do you need help with condominium management in Bradenton? If so, contact AMI today to learn how our community managers can make managing your community easier than you ever imagined.