How HOA Members Can Help Their Association Run Well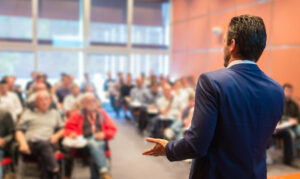 It makes sense to most people that every member of an HOA board has a specific role to play in the functioning of the community. However, many people don't think about the fact that every association member helps the whole group function better. Here's what association members who are not on the board can do to improve life in their neighborhood.
Participate in Meetings
HOAs run better when more people participate in their meetings. This can mean simply attending the meeting to hear what is said and to understand the issues facing the community.
Sometimes, this means speaking up at a meeting. Many community members have issues that mean a lot to them. When one of these comes up, it's important that they speak out and have their voice heard, even if the issue is not ultimately decided in their favor.
Vote
Most HOAs hold community votes at least once each year. It's important that members participate in this voting, because this can determine the future of their community. This is also where much of the change in HOA communities takes place.
When members don't vote, then the decisions that get made often reflect only the opinions of a few people, rather than the will of the whole.
Join Committees
HOAs need active committee members in order to function well. The people on the association board cannot take care of everything that needs to be done in the community. Thus, they form committees to handle certain tasks or types of tasks. Community members can support the work that the board does by participating in a committee that suits their interests.
Follow the Rules
Community members support their HOA when they follow the rules outlined in the governing documents. This means that they must familiarize themselves with the rules, then choose to follow them even when they don't want to. It also means that they work through the process outlined in the HOA documents when they want to try to change a rule or when they need a one-time exception to a rule.
Pay Dues On Time
HOAs usually require monthly or yearly dues payments. These monies go to cover costs that the association holds in common, such as upkeep of swimming pools and other common areas or paying for trash services.
When members don't pay their dues on time, the HOA has to spend extra time and energy tracking down those payments. Thus, one significant way that members can support their association is by paying dues on time.
Treat Board Members With Respect
Even when there are disagreements, members of an HOA can support that organization by maintaining respect for the board. Disagreements and respect can coexist and acknowledging this helps the HOA function better.
If you need help recruiting member involvement in your HOA or you're looking for professional condo management services in Sarasota, Bradenton, Venice, or Lonboat Key, contact us at AMI today. We can help you with a number of tasks that will make your life easier and that might raise your member involvement, too!
Tweet