How To Highlight Homeowners in your Association
One of the best ways to build community in your homeowner's association is to help people get to know each other. That way, they can form connections and, because they live close to each other, they'll be better able to sustain that connectedness.
While there are many ways to connect homeowners to each other, one great option is to highlight different homeowners. You can highlight them for their service to the community or for special awards or achievements they receive. You can also highlight people with different skills so their neighbors can send business their way.
Highlight Their Success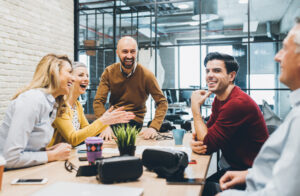 Highlight the success of people in your neighborhood even if it doesn't have anything to do with the HOA. You can ask people to let you know when they or someone they know in the neighborhood achieves something, then put it in a newsletter and/or announce it online or at an in-person meeting.
This helps people feel like the association is on their side. When the neighborhood is part of their celebration of success, they will feel good about where they live. Highlighting successes also tells the neighbors what they are good at, and who to ask for help in certain areas.
Recognize Volunteers
If homeowners go above and beyond when it comes to volunteering for the association, make sure everyone knows. Showcase their work online or in a newsletter, or even send out a special mailing to make sure everyone knows who is contributing to the good of the whole in your neighborhood.
You can also set up a program where people are recognized for years of service, even if they don't headline a special event or do something particularly noteworthy. Ten years of volunteering is worth noting, even if all the volunteer did was file papers or make phone calls. Let people know that their service is appreciated no matter what!
Speak With Them Privately
Some people don't like to be publicly highlighted. They may not be comfortable with the spotlight on them or they may not have the capacity to field questions or other inquiries from their neighbors. You can still take the time to talk to these people privately. They will know they are seen and appreciated but they won't have to deal with the parts of that that make them uncomfortable.
Set Up a Standard Appreciation Process
If you have a lot of volunteers or your neighbors seem to have a lot of successes that you want to celebrate, set up a process for doing these things. You might have a designated board member who coordinates things, making sure everyone receives the same level of recognition or showcasing. This ensures that appreciation is fair by seeing that it's the same for everyone.
Reach Out for Help Highlighting Homeowners
Taking the time to highlight successes and volunteering in your HOA can build community. If you need help making this happen in your neighborhood, call us at AMI today for HOA tips and community management services. We'll make sure your homeowners feel valued!
Tweet