The Lowdown on Hiring HOA Roofers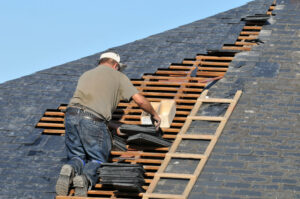 Hiring a roofer for your HOA is different from hiring one for a single-family home or a business structure. Because HOAs often have very particular rules that must be followed when it comes to roofing and because the projects can be more extensive than other types of roofing projects, it's important to get the "just right" contractor for your needs.
Experience Working with HOAs is a Must
Make sure you work with a roofer who has experience working with HOAs. If you are on the board for a condo association, work with someone who has done condo roofs before, and preferably with a team that has done it on a complex the size of yours.
Even if you just need a roof for an HOA common building, find someone who understands HOA procedures. They will be paid differently for your work and they will need to follow your rules. It's easier to work with a team that understands this from the beginning.
Look for Knowledge of and Adherence to HOA Rules
When vetting roofers, put your HOA rules front and center, particularly if they are onerous in any way or if other contractors have complained about them. Make sure you hire someone who understands the rules and doesn't see it as a major problem to follow them. Put the rules into your contract with the roofer, too, so you have some recourse if they aren't followed.
Get Multiple Quotes
Before you hire a roofer, make sure you get at least three quotes from qualified roofers for the project. This will give you a solid price range for the job, and it will allow you to weigh different factors so you can hire the group that will be best for your specific job.
It also gives you a chance to meet representatives from different companies. You may find that you enjoy working with one team more than another, and this ease can make the whole job go smoothly.
Compare Quotes Fairly
When comparing quotes, make sure you're comparing apples to apples. Look at each quote so you know what it includes and what it does not include. For instance, quotes that include hauling away the old shingles may be higher than ones that don't, but you definitely don't want to have to do that yourself or to add it on later.
If you're not sure what a quote includes, take the time to ask and to get a clear answer from the contractor. This can ensure that you get the best quote for your needs.
Work With Someone You Like
Whenever you can, choose to work with a contractor and a team that you are comfortable with. If you're uncomfortable or if they intimidate you, you will be more stressed during the project and you may not end up getting what your association wants or needs.
If you need help hiring an HOA roofing contractor, contact us at Advanced Management Inc today! We'll recommend a variety of contractors who can meet your needs. And if you are in need of community management services, we can help with that too!
Tweet