Spring & Summer: Fun Community Events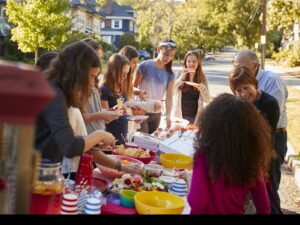 HOA events can be a great way to help your community members get to know one another and help people love living in your community. They can also offer low-stress ways for board members to get to know other people who live in the community. However, you want to make sure that the events you plan are good ones, so people will continue to come when you have them and will feel good about where they live.
BBQs
BBQs are great, especially if you have community grills or grilling space. Even if you don't, though, you can have a few people bring grills from home to make the event happen. Provide the meat and have people bring potluck sides, or let everyone bring their own meat and cook it themselves. Then bond over beef, brats, and beer.
Local Hikes
A lot of people love to get outside, but many — especially folks who have recently moved to the area — may not know where to go. Plan some local hikes for your community. This helps people get outside, get moving, and get to know one another while they are doing it. If you live far from good hiking options, arrange carpools or plan walks in local parks, instead.
Easter or Spring Celebrations
If you have an open space that's safe and grassy, plan an Easter egg hunt for the neighborhood kids. It's easy to do this on a budget and still have plenty of eggs for every kid in the area to bring home a full basket. Make sure you do this on a weekend around Easter and not on Easter itself, as many people will have other plans.
Group Planting
When there is planting to be done, it's more fun to do it together. This is true whether you're planting in common areas or everyone is working in their own yard. Make sure the weather will be good, then let people know that planting day is here!
Movies Outside
If you have enough open space, rent a movie screen and have a family movie night. You may even want to do this several times over the course of the summer, so people can have something to look forward to. Show family films so people can bring the kids, and bring in a popcorn stand or a shave ice food truck to make things even more exciting for everyone.
Garage Sale Weekend
If garage sales are popular in your area, try planning a garage sale weekend for your neighborhood. If you advertise this properly, it could draw a bigger crowd than any single sale ever would. Check with the neighborhoods around you to make sure you aren't encroaching on their garage sale weekend, then let people know well ahead of time so they can find the stuff they want to sell.
If you need help coming up with ideas for HOA events or professional HOA management services in SW Florida, call us at Advanced Management Inc. We'll help you bring your community together this spring.
Tweet