What Does An HOA Management Company Do?
Whether you're an HOA board member or a homeowner, and whether you have an HOA management company or not, it's important to know what one of these companies can do for you. That way, you either know who to call on for what type of issues, or you know where to go if you can't support a self-run HOA anymore.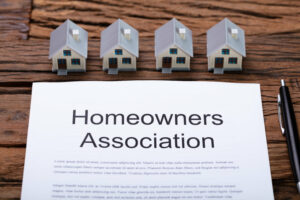 Help the HOA in the Ways They Need It
Most HOA management companies simply help HOAs however they need it. While a few insist that HOAs take all of their services as a package, most are willing to design different packages for different clients. They will provide the services you need but not the ones you don't need. Here are some of the main services a management company could possibly provide.
Administrative Services
HOA management companies often take care of a variety of administrative tasks for the board. These can include, but are not limited to:
● Responding to homeowner questions and problems
● Scheduling and running board meetings
● Preparing monthly documents
● Helping the board prepare a budget
● Helping enforce the community's rules
Legal Services
Some management companies have lawyers on staff, while others will contract out legal work to trusted lawyers in the community. Legal services may include:
● Pursuing delinquent accounts
● Placing liens or foreclosures on homes
● Resolving conflicts between homeowners and the HOA
● Drafting legal documents
Financial Services
Many HOA managers specialize in helping HOAs manage their finances. These services may include:
● Reviewing monthly the dues and assessments billed and paid
● Managing bank accounts
● Keeping detailed financial records of all transactions
● Making the monthly financial reports and distributing them to homeowners
● Managing billing and payments for contractors and services
On-Site Management Services
For HOAs that require on-site management, a management company can send someone out daily to complete duties such as:
● Inspecting homes for violations of community regulations
● Ensuring that all common areas are kept up
● Meeting with contractors and overseeing their work
● Coordinating with contractors and others when the board approves maintenance or other actions
● Making sure the common areas do not need maintenance and making it happen when they do
Contractor Services
Many management companies will act as a go-between representing the HOAs interests to contractors. These duties may include:
● Suggesting new contractors based on the manager's connections
● Soliciting quotes when then HOA needs to have work performed
● Meeting with contractors on site and overseeing their work
● Pursuing contractors who do not fulfill their duties as outlined in their contract with the association
● Ensuring that the association gets a good deal for all contractor service
● Paying contractors, managing their invoices, and more
Get Support Today
If you are on an HOA board that needs some help or you support an HOA board that is unable to complete all of the above tasks in-house, contact us at AMI today. We'll work with you to design a plan to get your association the help it needs, no matter what. Find out how easy it can be to run your HOA today!
Tweet